photos: Julia Bruns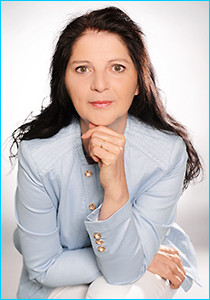 The singer Waltraud Rennebaum was born in Bochum (Germany). She grew up in a family full of music-making. Her father played trumpet, two of her brothers became professional musicians too. Even as a child, Waltraud was encouraged to sing; she loved to present herself in public with her voice. She visited the municipal music school where she received trumpet und piano lessons. Later she aquired her artistic qualification at the conservatories of Detmold, Cologne and Düsseldorf. Initially she had intended to become a classical orchestral-musician. She studied french horn and played in some orchestras and chamber music ensembles. But more and more she got mainly interested in singing, and so she finally concentrated completely on training her voice (mezzo-soprano). Additionally she studied Hebrew under a Judaism teacher in Düsseldorf for four years. Inspired by the Hebrew language and biblical psalms, she discovered her love for sacred songs and she began to set Bible verses to music herself. She delved into the world of Tehilim, the Hebrew Psalter. Also she was fascinated by Jewish folk music of former centuries and different cultures with their special melody, harmony and rhythm. In this way, a unique song repertoire developed, combining the genres of the classical song and of Jewish folk music.

25 years ago, the vocalist founded together with her husband, pianist Raimund Rennebaum, the Ensemble SHOSHAN ("lily" in Hebrew). They are giving concerts with various lineup mainly in churches and synagogues. Waltraud produced five solo albums with her Ensemble Shoshan, furthermore music for children which was published on two CDs and as printed music. Her CD Ma'alot – The Songs of Ascents was released in 2007 by the renowned record label Hänssler Classic; it contains the cycle of the so-called "songs of steps" (psalms 120 through 134). The album features the first worldwide successional musical settings of this biblical song cycle in its original language Hebrew. The CD was internationally regarded and received enthusiastic reviews in German, Swiss and American media.

As an interpreter of Hebrew Psalm settings, including numerous compositions of her own, Waltraud Rennebaum developed her own and unmistakable style and today takes an outstanding position in the German-speaking region. Her expressive natural voice is characterized by a warm timbre, fine nuances of vocal colours and smooth melismatics in oriental-like passages. On stage, she also plays some hand-drums, tambourine, riq and bells, adding that typical Israeli touch to the music. Through her lively concert moderation, the audience learns quite a few details about the background of the Psalms or the meaning of biblical feasts.
Besides giving concerts, Waltraud gives vocal lessons or lectures about the book of Psalms or she holds workshops.

Shabbat – Hebrew Songs is the title of her new album, released in October 2014. For this project Waltraud selected the most beautiful melodies of the Jewish Shabbat liturgy. She says: "The work on the CD fascinated me! Every piece is different in character; tunes of the Ashkenazim, Sephardim, Hasidim and the West European music tradition are meeting. In addition to piano, flute, tenor, cello and percussion, I first brought a clarinet into the ensemble, an instrument which is very characteristic for Jewish music and provides an enchanting supplementary tone colour. I could gain one of the leading French clarinet players for this recording: Florent Héau from Paris. Now I am excited about how the Shabbat album will be received and how the songs will be responded by the audience in live-concerts."

Jews and Christians. "Already during my music studies, I have been interested for the roots of the Bible, that is to say the Hebrew Jewish culture. What was more obvious for me as singer than to deal with Jewish music and Hebrew songs? The good thing is that music is a universal language bringing together people from different religions and cultures. Music helps to overcome barriers and build bridges from person to person. I deeply wish that Christians get to know the richness of Judaism and that Jews in return be open for the cultural heritage of Christianity. With all due respect to the differences, I think it is a pity when Christians only sing their own songs and Jews prefer to remain among themselves. Both parties have – in spirtual terms – common roots and both have the same destination. If my music can contribute to bringing the two of them closer together and making them understand each other better, I will be delighted. However this is a laborious path, there are still prejudices and fears of contact on either side.

Vocal lessons


My vocal lessons offer:

•

development of the singing voice & posture

•

breathing technique & warm up

•

tone and range of voice

•

articulation & intonation (purity of tones)

•

interpretation of songs of different styles

•

performance

•

recognition of voice defects

•

Special: Singing Psalms in Hebrew.
To the lessons respectively one non-binding trial lesson, all those are invited who sing with joy and frequently and who wish to work seriously with their voices. Conscious singing not only trains the voice; it is care of soul, joy, relaxation and creative prayer. Strengthening the voice encourages self-confidence and enhances concentration ability. Particulary effective are periodic lessons and regular practicing; but also one single lesson can make sense.
Because of my voice register, I prefer to teach female students – adults, teenagers, seniors, and children – with or without educational background. According to your wishes, the lessons are hold for one or two students or for groups, e.g. vocal ensemble, worship group, choir. I also offer an

intensive training weekend

(for one or two students), a good opportunity for people who have a long way to travel. The lessons are held in my private home in D-51588 Nümbrecht (near Cologne in Germany). If you have questions, please contact me by telephone (0049-2293-9377990) or via contact form.
photos: Gunnar Bäldle